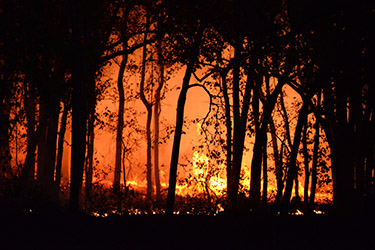 While this article focuses on fire, many other natural disasters can certainly warrant the same level of preparedness: hurricanes, floods, blizzards, etc. The specific preparations may differ, but the concepts are the same. We always hope that these situations will never occur, but being ready can mean the difference between life and death for your horses and other livestock.
Danger of fire may be extreme again this summer. Now is the time to consider and plan what to do if your property and horses are threatened and need to be evacuated. It's a good idea to get together with neighbors or members of your club or association and make plans ahead of time. Once a fire is bearing down upon a barn or corral, it may be too late.
Some things to consider:
Prepare your horses. Some simple basic training is in order.
Make sure all of your animals are catchable. Remember that the person trying to catch them may be a neighbor or stranger.
Make sure that all of your horses are trained to load easily into a trailer. Remember that the trailer used in an emergency may be unfamiliar to them, so make sure they are comfortable in a variety of trailers.
Take photographs of your horses and attach ID tags to halters or write your name and phone number on neck bands. Keep your photographs and ownership documents together where you can get to them easily. Keep medicals records on hand, too, especially for horses that require special medication or care. It's a good idea to keep a second set of these documents (or photocopies) in another location – or in your truck.
Keep an adequate number of halters and lead ropes in a visible location where they can be found by rescuers.
Prepare your trailer.
Make sure your trailer is in good working order, that all the tires are inflated and that you have a spare.
Make sure your truck is fueled and ready to go.
If you do not have a truck and/or trailer, make arrangements before a crisis to have a neighbor, friend or club member come for your horses.
Have a plan and a place to go.
Know your destination and more than one way to get there. If you have four horses and a two-horse trailer, identify a safe place where you can drop and secure the first two, so you can return for the others.
Identify beforehand places such as fairgrounds, racetracks, farms and humane associations that might be likely places of refuge for your horses. Contact these places and find out if they are willing and able to harbor horses in case of emergency.
Keep written instructions and familiarize your neighbors with your wishes in case you are not there and someone else has to move the animals. Include such information as "there is a donkey and a palomino gelding in the pen behind the barn."
If evacuation is not possible, it may be necessary to decide whether to turn your animals loose or keep them contained. Make sure they wear proper identification if you decide to turn them loose.
Some other things to consider:
Keep your property clear of brush, loose hay and other fire hazards to minimize the chance of fire spreading close to your barn or house.
If you are willing to help evacuate or house horses during a crisis, make this known to public agencies, neighbors and members of clubs you belong to.
Remember that the Back Country Horsemen of your area are an excellent resource and can offer help during emergencies. Get to know them.
If you find or take in horses for someone else, keep them separated from your own horses. Let authorities know what animals you have.
Remember that wells and automatic waterers will not function if electricity is lost, so plan for another source or draw sufficient water to see you through a crisis.
Get to know your neighbors and the people who live in your general area. Find out what their evacuation needs will be in case of fire so that you can help out if needed.
Use your club or equine organization to draw up community plans aimed at saving livestock in the event of fire.
Exercise caution to prevent fires from starting in the first place. Be alert to smoke. Fires can travel quickly when conditions are dry and windy.
Pray for rain.
This article excerpted from the New Mexico Horsemen's Directory 2003.
Would you like to go shopping?
TrailMax™ Packer's Halters
Rope Horse Halters
TrailMax™ Mule Halters

Would you like more information?
Russ On... Halters and Leads