Montana Canvas and Outfitters Supply™ have been in business together for nearly two decades. Montana Canvas provides their customers with the best tent on the market. Their designs are the result of extensive field testing by expert field staff and professional guides who rely on their products. If there was a better wall tent on the market than Montana Canvas, Outfitters Supply™ would carry it.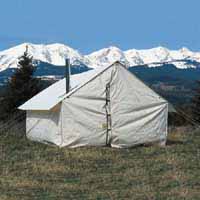 Montana Canvas is located in Southwest Montana, just north of Yellowstone National Park, a perfect place to test their products. Their commitment to quality is second to none. Montana Canvas is dedicated to manufacturing the highest quality camping equipment and accessories, while striving to keep their prices competitive, so you receive the highest value when you purchase a Montana Canvas wall tent.
Montana Canvas Limited Lifetime Warranty
Montana Canvas Wall Tents are warranted against defects of materials and workmanship. Any product found defective will be repaired or replaced (at the discretion of Montana Canvas) without charge when the product is returned to the retail seller with freight charges prepaid. This warranty is voided with the use of cleaning or treatment agents or compounds that have not been approved by Montana Canvas. This warranty does not cover torn fabric or merchandise damaged through misuse, accident or transportation. Montana Canvas makes no other warranty either express or implied and shall not be liable for consequential or incidental damages. This warranty applies only to new products sold at retail value and to the original purchaser. This warranty gives you specific legal rights. You may have other rights which vary from state to state.
Would you like to go shopping?
Wall Tents
Wall Tents Frames
Wall Tent Accessories
Cylinder Stoves and Stove Packages
Riley Stoves and Stove Packages
Kni-Co Stove Packages and Accessories