Sawbuck Pack Saddles, in Use for Thousands of Years
The Sawbuck Pack Saddle has ancient origins. Its design is simple and variations, such as the camel saddle of the Middle East, appear world wide. As the pack saddle of the fur trapper and the prospector, the Sawbuck Pack Saddle played a large role in opening the American west. In the years following the Lewis and Clark expedition, sawbuck pack saddles packed just about everything a horse could carry. The Sawbuck Pack Saddle is popular with outfitters and packers who were raised using it or prefer the traditional look that it offers.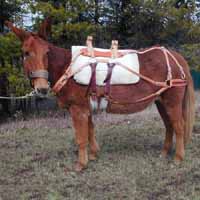 Our Traditional Sawbuck Pack Saddle is made in the Outfitters Supply™ shop in Columbia Falls, Montana and is built to endure a lifetime of hard use. We begin with our own Tehema Sawbuck Pack Saddle tree. Because pine is lightweight and resists cracking, it is used to make the bars of the Tehema tree, which are then stained and sealed with linseed oil. The crossbucks are made of 1¾" square pieces of solid oak. For those who want more strength than a wooden tree can offer, we designed the TrailMax Premium Sawbuck tree. This tree offers the same durability, strength, and versatility as our TrailMax Decker tree, with high-strength polymer composite bars and stainless steel crossbucks. We use American-tanned Old World Hermann Oak harness leather and stainless steel hardware when building the Sawbuck Pack Saddle rigging. The leather on both the breast collar and breeching is rolled to prevent chafing and soring. We have added roller buckles on the quarter straps for easy adjustment of the breeching. Our Sawbuck Pack Saddle is designed with traditional double rigging. We include two long latigos on each side and a double-ring, mohair sawbuck double pack cinch in a length of your choice. Your sawbuck pack saddle is ready to pack when it arrives.
We also offer an adjustable pack saddleas part of our pack saddle line. The hinged bars on this pack saddle automatically adjust for the proper fit for your horses or mules. The bars are made of nearly indestructible ABS plastic, rounded at the edges and textured on the bottom. The arches are made of
5/8" zinc plated steel with a "T" top design for hooking pannier hanger straps. The Adjustable Pack Saddle is available with high withered and low withered bars. Like our Traditional Sawbuck Pack Saddle, the rigging on our Adjustable Pack Saddle is made with Traditional Old World Hermann Oak harness leather, the best hardware and our personal attention to craftsmanship. The breast collar and breeching are both rolled to prevent chafing and soring and the roller buckles on the quarter straps make for easy adjustment. The Adjustable Pack Saddle comes with standard sawbuck double rigging, four leather latigos and a 100% mohair Sawbuck double pack cinch and is ready to pack straight out of the box.
Outfitters Supply™ Sawbuck Pack Saddles are being used extensively throughout the United States and in several countries around the world by professional outfitters, Forest Service Ranger Districts, National Parks Rangers and packers who demand equipment that won't let them down.