Montana Canvas Wall Tents are available in two materials: treated canvas and relite. Both materials are pretreated to be flame retardant, water resistant and mildew resistant and meet the California Fire Marshall specifications. Montana Canvas also offers a Montana Blend wall tent where the roof is made of canvas and the side walls of Relite.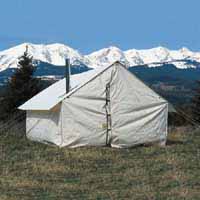 Canvas. Canvas is the traditional material for wall tents. The canvas used by Montana Canvas is available in 10 oz and 12 oz weights (10 oz is the most popular). Because it is 100% cotton, canvas is especially good at absorbing some of the interior condensation created by drying clothes or boiling water, while also retaining heat well. The weight of canvas helps it billow less in a stiff wind. A canvas wall tent provides excellent shelter, but needs to be taken care of properly. A canvas wall tent must be completely dried after each use to avoid mold and mildew growth.
About Relite. Relite is available exclusively from Montana Canvas. For many outdoor camping purposes, Relite is the
perfect tent fabric choice. This unique polyester-based fabric is extremely lightweight, which makes it ideal for packing in on animals and environmentally friendly, low-impact camping. Soft, pliable and easy to clean, Relite offers a tear strength and longevity as good as canvas. Because Relite is so highly durable and more resistant to destructive ultraviolet rays than other commonly used materials such as nylon, it is the choice of many outdoor enthusiasts. Relite does not grow mold or mildew. However, we still recommend that you dry your tent out before storage. Relite does not need to be retreated for water resistancy, but we advise you to reseal the seams as needed. All-Dri is provided with your Montana Canvas Relite tent or can be purchased from us. Relite is a fully synthetic fabric, it does not breathe or absorb moisture like a canvas tent. Because of this, you may notice condensation if you allow your wood stove to die out at night, especially if there are humid conditions or several people sharing the tent. To alleviate this, keep your tent vented with screen doors or windows and keep your wood stove burning throughout the night.
Montana Blend. Montana Blend offers you the best of both worlds. With the majority of the tent made of lightweight Relite, the overall weight of your wall tent is substantially reduced from that of a canvas wall tent. The canvas roof provides you with a more breathable material overhead to absorb the condensation from humidity, breathing, cooking and drying clothes. Although we still recommend setting up your tent to dry it out before putting it away, with a Montana Blend tent, the tent could be laid out inside a shop or garage such that the roof was exposed to dry. The canvas roof also gives your wall tent a more traditional look than a 100% Relite wall tent. The tan color allows plenty of light to penetrate the tent without being too bright inside or out. It blends well in most environments and does not show the dirt quite as much as the natural canvas.
Would you like to go shopping?
Wall Tents
Wall Tents Frames
Wall Tent Accessories
Riley Wall Tent Stoves
Cylinder Wall Tent Stoves
Would you like more information?
Wall Tents
Canvas Wall Tent
Wall Tent Options
Wall Tent Frames
Russ On… Wall Tents and Wood Stoves
Riley Stoves
Cylinder Stoves